Supporting the next-gen sea heroes
In collaboration with the Navy Cadet Association, we have created an exclusive blend. A part of the profit is donated to the association and the upcoming sea heroes. 


We celebrate new and existing heroes
For centuries, the Danish navy and Danish naval officers have safeguarded Denmark's security. To honor these numerous famous and unknown Danish sea heroes, we have created our exclusive blend, Naval Cadet.
A career as a navy officer with many months a year at sea means opting out of many other things. It's one thing to be able to handle the crew on one of the Navy's vessels, it's another to be able to navigate long distance relationships, which for many naval officers a little too often end up in stormy weather.
A.H. Riise Royal Danish Navy Naval Cadet is made in collaboration with the cadets at the Navy Officers' Acadamy. It is with pride that A.H. Riise donates a part of the profit and supports naval officers' historical tradition of creating security for all of us at sea as well as on land.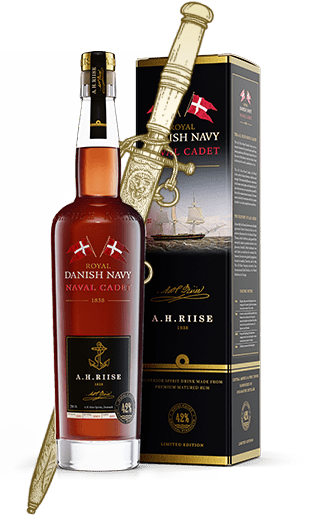 Bottles we share with our
friends
For more information click on a bottle
Being a part of the Naval history
In June 1838, the Danish Government officially granted Albert Heinrich Riise the exclusive right to establish a pharmacy on the island of Saint Thomas in the Danish West Indies. The rights included the production of alcohol-based medicines and tonics in his pharmacy. A. H. Riise soon began distilling rum and experimenting with flavours. The strong, sweet liquor became the start of a close connection to the Danish navy. Not only did A.H. Riise become the supplier of rum to the fleet in West India. Stored in old oak barrels, the golden drops were also shipped back to Copenhagen by the navy, where they were kept securely under navy guard. A.H. Riise continues to celebrate its connection with the Danish navy. Even today, officers who have successfully undergone their training celebrate their "passing out" with a couple of tots of A.H. Riise Royal Danish Navy.
In June 1838, the Danish Government officially appointed Albert Heinrich Riise as the exclusive pharmacist for the caribbean island, Saint Thomas, part of the former Danish West Indies. This granted him monopoly status to produce alcohol in his pharmacy.
If you have an old bottle of A.H. Riise in your hand and compare it with a more recent bottle, you might wonder why what used to say 'Rum' is now 'Superior Spirit Drink made from Premium Matured Rum'. What's the difference? And does it matter to you?
West Indian rum and spirit drinks based on rum are traditionally produced in three different styles: Spanish, English and French.