The original A.H. Riise brand that put Danish rum from the West Indies on the world map.


The garden of the West Indies
If rum has an absolute origin, it must be in the West Indies. Christopher Columbus discovered the islands on his second voyage to the New World in 1493. With him he brought, among other things, sugar cane. The most suitable island for growing sugar canes was St. Croix. Due to its lush nature, it was nicknamed "The Garden of the West Indies". 
St. Croix was the center of sugar cane agriculture in the Danish West Indies from the early 1700s. But sugar was not the only commodity. It soon became apparent that the residual product molasses could be used for the distillation of a sweet, aromatic alcohol. 
To this day, the heart of our blends continues to be distilled on molasses.
The original taste of the West Indies
150 years ago, the Danish pharmacist A.H. Riise put rum from Danish West Indies on the world map under the trademark "Old St. Croix ".
The name refers to the island of St. Croix, which from the early 1700s and two centuries onwards was the center of cultivation of sugarcane and the production of sugar. It was from here A.H. Riise purchased the by-product molasses, which was the basis for the distillation of Riise's popular rum.
The historic rum brand was first introduced in the early 1870s, when Riise began marketing his rum in the United States and Central America and needed an appealing name for the golden drops. On the occasion of the 150th anniversary of the launch of our original Old St. Croix brand we have created an exclusive Limited Edition blend that captures the aroma and taste of the West Indies and the flora of the un-drenched islands.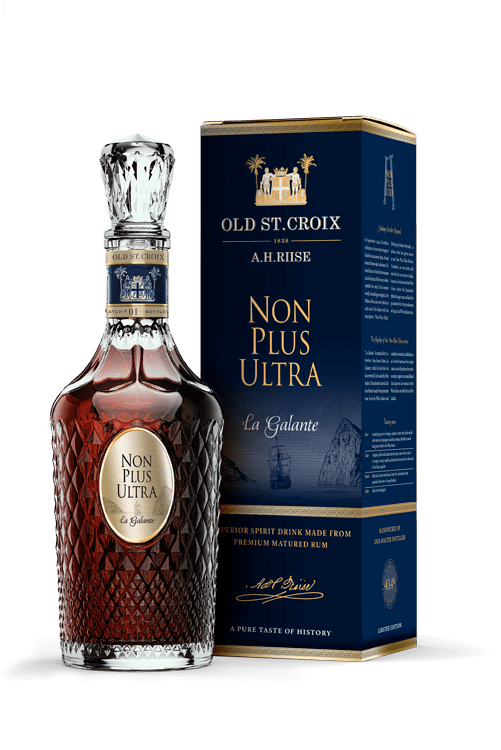 NON PLUS ULTRA – LA GALANTE LTD EDITION
A tribute to our Caribbean heritage
Old St. Croix Non Plus Ultra "La Galante" is named after Columbus' ship Santa Maria La Galante, which he led when he discovered St. Croix and the West Indies. This exclusive Limited Edition blend is created by our master distiller with the very best drops from Central America and the West Indies.