A.H. Riise and Wife's Family Scholarship
We collaborate with the directors of A.H. Riise and Wife's Family Scholarship and created an exclusive blend to honor the family.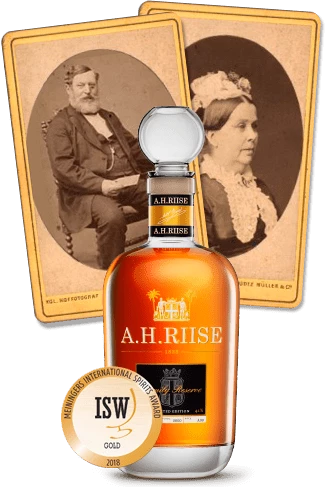 Being a part of the history
A special blend for special occasions
A.H. Riise Spirits collaborates with the board of directors of A.H. Riise and Wife's Family Scholarship on the digitization of the comprehensive family archive so that it can be of benefit to the public. In addition, we financially support a number of scholarships, which are to be awarded to family members in education.
Every five years, the family holds a party at A.H. Riise's birthday. A.H. Riise Spirits contributes with entertainment, cocktails and of course a tasting. On the occasion of the family party in 2015, we developed a very special blend, A.H. Riise Family Reserve, which was a great success. This collector's item is also available in selected stores.
Bottles we share with our
friends
For more information click on a bottle
The history of
A.H. Riise
In June 1838, the Danish Government officially appointed Albert Heinrich Riise as the exclusive pharmacist for the caribbean island, Saint Thomas, part of the former Danish West Indies. This granted him monopoly status to produce alcohol in his pharmacy.
Initially, Albert developed rum and bitters as medicine for stomach ills. However, his rum soon gained popularity beyond its medical function, and in 1893 he received an International Medal at the World Exhibition in Chicago. A.H. Riise created strong brands such as "Old St. Croix", "Riises Guava Rum" and "A.H Riise Rum".
He was awarded many honorary positions on the island of St. Thomas. At one point he was Director of the National Bank of St. Thomas and was made Knight of the Order of Dannebrog in 1860.