Preservation of a historic warship
In collaboration with Frigate Jylland we have created a unique blend and a part of the profit goes to the preservation of the museum ship that visited St. Thomas 5 times.

Visited the West Indies 5 times
The historic wooden warship
The original Danish wooden warship 'Fregatten Jylland' of 1860 visited St. Thomas a full 5 times. The frigate had several well-known commanders, including Prince Karl (later King Haakon of Norway). On the Caribbean island of St. Thomas, Valdemar Riise, son of A.H. Riise, see the beautiful frigate dock in the capital Charlotte Amalie. Today, the Frigate Jylland is the world's largest preserved wooden ship. It is a completely unique ship which is not only part of Denmark's history, but also part of the world's cultural heritage. Therefore, it is also not entirely coincidental that it is precisely the Frigate Jylland that A.H. Riise has vague support.
In collaboration with the Frigate Jylland, we have created the exclusive blend "The Frigate Jylland Royal Danish Navy". Part of the profit from the sale of these unique bottles goes to the preservation of the museum ship.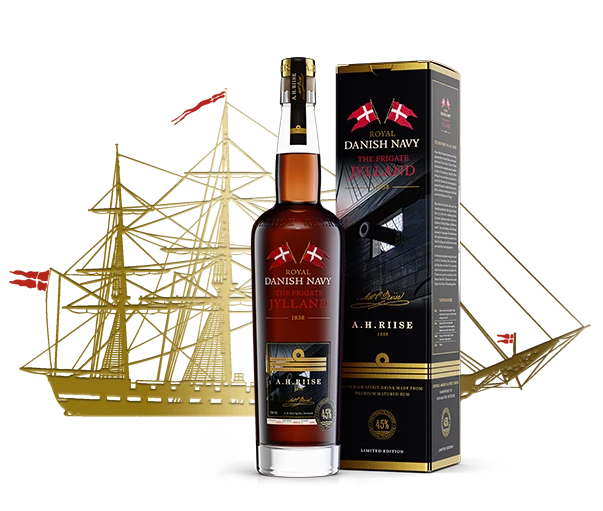 Bottles we share with our
friends
For more information click on a bottle
The history of
A.H. Riise
In June 1838, the Danish Government officially appointed Albert Heinrich Riise as the exclusive pharmacist for the caribbean island, Saint Thomas, part of the former Danish West Indies. This granted him monopoly status to produce alcohol in his pharmacy.
Initially, Albert developed rum and bitters as medicine for stomach ills. However, his rum soon gained popularity beyond its medical function, and in 1893 he received an International Medal at the World Exhibition in Chicago. A.H. Riise created strong brands such as "Old St. Croix", "Riises Guava Rum" and "A.H Riise Rum".
He was awarded many honorary positions on the island of St. Thomas. At one point he was Director of the National Bank of St. Thomas and was made Knight of the Order of Dannebrog in 1860.